"People imagine I've got kinky habits but my worst vice is video games. Well, I have got a few others but you'd be far too interested in them" -
Martin Gore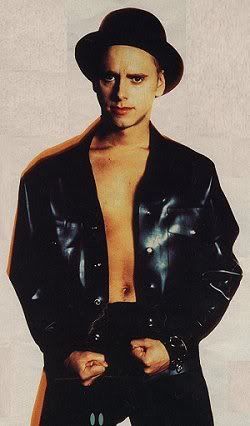 Skinnbuksen er et for noen
VELDIG kjært plagg
, materialer som latex/pvc/lakk likeså. Så kommer fjortisene på skolen med bena tredd inn i lissåm-latex-tights fra Gina Tricot. You ain´t no
Madonna
, girlfriend.
Noen vil alltid sutre når et plagg eller materiale låner bort eller mister sin "mening". Klær er bare klær, men der er ofte kulturelle/politiske/sosiale/seksuelle konnotasjoner knyttet til dem som ikke slipper taket så lett. Derfor ble Martin Gore stemplet som gay SM-freak og til dels skyld i at Depeche Mode fremdeles, blant mange, ikke tas som et seriøst band i Storbritannia. Noen mener sågar at
dette skjørtet i denne videoen
drepte Queen´s karriere i USA. Power to the PVC!
Leather delight! PVC, patent leather and related sorts of materials will never lose their, well, naughty vibes. Mainstream fashion will from time to time lean towards different kinds of kink and fetishwear for inspiration. I myself have no problem with that, I love the fact that we can use all kinds of aestethics as resources for getting dressed. But some will always get a bit grumpy when teenagers freely run around in fake-pvc-tights when they themselves are limited to dressing up as a gimp mostly/only in the privacy of their own home. Errrh. I got kind of lost here, I need to go to sleep...